Fresh Fruit to your Workplace 
Heading back to the office?
Enter your postcode below to see if we deliver to your area.
Choose between subscription or pick and mix
1. Create your account
Sign up to our brand new service which allows you to order once and receive your orders week after week.
2. Build your order
Select the items you want and checkout, choosing which day it arrives.
3. Delivered to your door
Now all you need to do is wait, our system automatically charges you each week and your delivery will be made the day you requested.
Build Your Own Box
The Pick & Mix of the fruit & veg world has been created. Have your choice in what arrives in your box.
We have a range of ready-made boxes for your convenience. Let us choose your seasonal produce.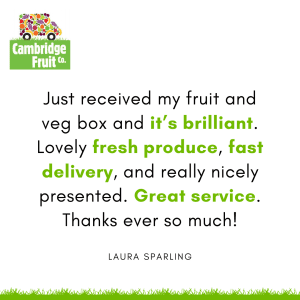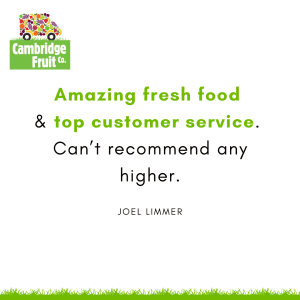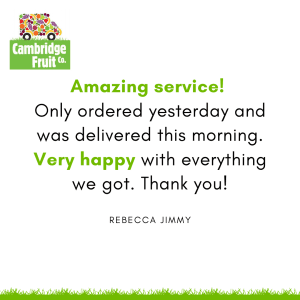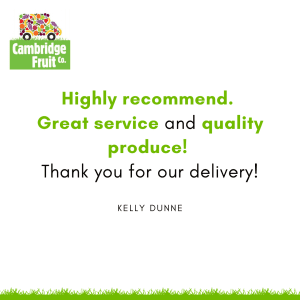 The Cambridge Fruit Company has been serving the local community with fresh fruit & vegetables since 2005.
We're coming together with local independent businesses to deliver meat, dairy and sweet treats to your homes. We're creating a one-stop shop where you can find some of the finest locally sourced and produced foods.
Click here to find out more.
Simply order before midday for next day delivery.
Where do you deliver to?
Cambridge: Chesterton, Arbury, Kings Hedges, Newnham, Trumpington, Barnwell, Queen Edith's, Castle, Petersfield, Romsey, Coleridge, Cherry Hinton.
Also: Histon, Milton, Girton, Impington, Waterbeach, COTTENHAM, Landbeach, Oakington, Rampton, Northstowe, Willingham, Madingley, Bar Hill, Coton, Caldecote, Hardwick, CAMBOURNE, Papworth, Quy, Bottisham, Swaffham Bulbeck, Swaffham Prior, Reach, BURWELL, Barrington, Trumpington, Shelford, Stapleford, SAWSTON, Whittlesford, Duxford, Harston, Hauxton, Haslingfield. 
This list is always growing so please check in with us or drop us an email! 
When do you deliver?
Our deliveries are usually between 7:00 – 17:00. This is to ensure that we get the freshest produce to you quickly.
If you're not home, we cannot return later so we'll leave your box in a safe, dry place or with a neighbour
Can I choose what's in my box?
We want you to be happy. If you have any strong likes or dislikes, just let us know in the notes and we'll try our best to accommodate your needs.
Help! I have a problem
Ok, don't worry we're here to help!
Let us know what's happened quoting your order number and we'll get right on to fixing it.
How much are your boxes?
We have a range of boxes starting from £20. Our staff hand-select your fresh produce so you receive the very best of what's in season. 
Is there a minimum order?
Yes. We can deliver all orders over £20 completely free of charge. For any orders under £20, there's a delivery fee of £3.95
How do I donate a box?
You can donate anything! Simply add to your basket and let us know in the notes when you checkout. You can donate your produce to The Red Hen Project. They'll whisk your donations away and take them straight to a vulnerable family in North Cambridge. Alternatively, you can send your fruit basket to Addenbrookes Charitable Trust. We'll deliver your donation to Addenbrookes Hospital where it'll be distributed to NHS staff. Please see our social media to see how much our customers have donated this year.

Go on give us a call on 01223 425308, we're waiting…